Days
Hours
Minutes
Seconds
Train travel is more than a way of getting from A to B. There is so much to see from your train window! Shimmering lakes, snowcapped mountains and coastal views. Europe abounds with picturesque routes that boast breathtaking scenery.
List of Scenic train routes in Europe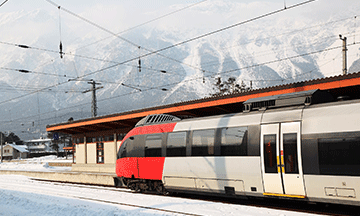 Arlbergline
(Austria)
The Arlberg Line runs between Innsbruck and Bludenz and is one of the most spectacular railway lines in Austria. Numerous bridges, viaducts and of course beautiful views on the Austrian Alps mark the route.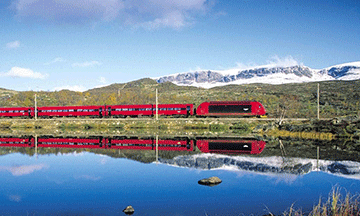 Bergen Railway
(Norway)
Running between Bergen and Oslo, this train lets you experience the best of the Norwegian landscape, complete with fjords, waterfalls, mountains and frozen lakes.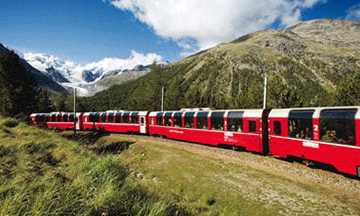 Bernina Express
(Switzerland)
The Bernina Express is a breathtaking train ride through the snow-capped mountain scenery of Switzerland. Take in views of dynamic glaciers, alpine lakes and rolling countryside.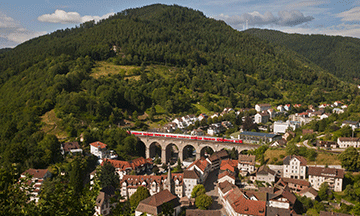 Black Forest Lines
(Germany)
The Black Forest scenic train route in south-western Germany passes through the beautiful region of Baden-Württemberg. The train winds around conifer-coated mountains and passes Hanzel and Gretel-style villages.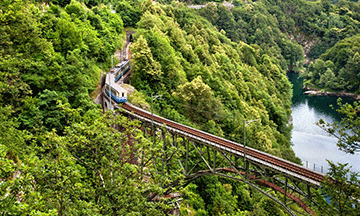 Centovalli Railway
(Italy - Switzerland)
The scenic train between Locarno and Domosossola runs through the magical "Hundred Valleys" - the Centovalli. It's considered to be one of the most beautiful views.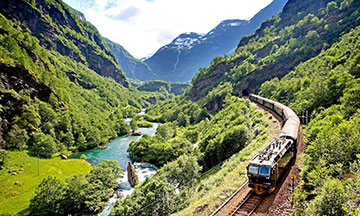 Flåm Railway
(Norway)
Starting from the mountain station at Myrdal in Norway, this scenic train takes you down to Flåm via the longest and deepest fjord in Europe, the Sognefjorden.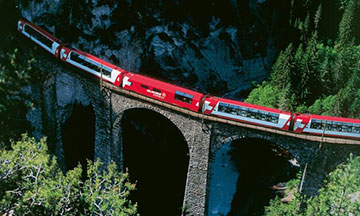 Glacier Express
(Switzerland)
This is the famous scenic train link between St-Moritz and Zermatt in Switzerland.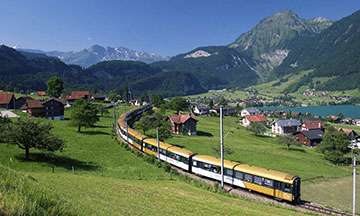 Golden Pass
(Switzerland)
The Golden Pass scenic train connects central Switzerland with Lake Geneva. Depart from historic Lucerne and cross the Brünig pass with the Golden Pass panoramic train. The train later makes an electrifying descent towards Montreux, passing through vineyards and country estates to finally arrive at shimmering Lake Geneva.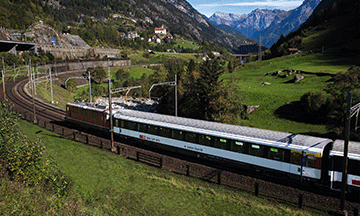 Gotthard Panorama Express
(Switzerland)
The Gotthard Panorama Express connects 2 of the prettiest parts of Switzerland by boat and by train: central Switzerland and the Ticino region in the south. There are daily connections from Lucerne to either Locarno or Lugano or vice versa.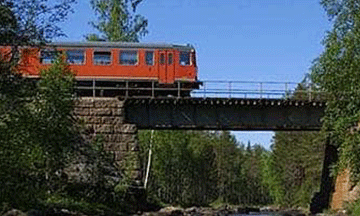 Inlandsbanan
(Sweden)
The Inlandsbanan is a scenic train route in Sweden that's 1,300 km long (807 mi), starts in Kristinehamn in the south and ends in Gällivare in the north.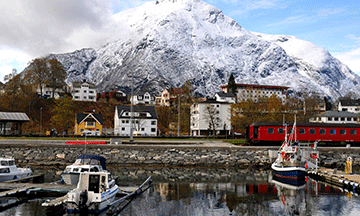 Rauma Line
(Norway)
Starting from Dombås (between Oslo and Trondheim) in Norway this scenic train route takes you through picturesque mountains, over imposing bridges, through winding tunnels and past the tallest rock-face in Europe; the Trollveggen.
Rhine Valley Line
(Germany)
Travel alongside the Germany's river Rhine for around 100 kilometres and enjoy the view of green vineyards, picturesque towns and beautiful castles.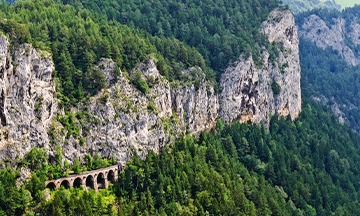 Semmering Bahn
(Austria)
This scenic train route runs between Glognitz and Semmering (Austria) over 16 viaducts and through 15 tunnels on a stretch of 5,420 m (3,4 mi).
Train reservations for scenic trains
Some scenic trains require a reservation in advance, however many do not. A number of scenic trains, such as the Bernina Express, have a special panoramic car, which usually requires a reservation.

See all reservation fees

If you have a need for speed, or want to travel at night to save costs, we've got you covered.
Find out more about the many other train types in Europe.