Days
Hours
Minutes
Seconds
The fast and modern Swedish trains will show you every corner of this majestic country. Travel comfortably between Stockholm, Malmö, Gothenburg and many more cities. Go as far north as north goes, well above the Arctic Circle, and see some of Europe's most spectacular sights!
Train types in Sweden
The extensive Swedish railway network is run by SJ. Modern trains travel regularly between the cities in Sweden, offering both comfort and stunning views from the train window. You can find Swedish train times in the Interrail timetable.
Trains in Sweden
SJ Regional and InterCity (R, IC)
Regional trains throughout Sweden
SJ High-speed train (Snabbtåg)
Fast connections between the bigger cities
Travels all the way up to the Arctic Circle

Fully included in your Interrail Pass
SJ Night train (NT)
Domestic routes within Sweden

International route to Narvik (Norway)
Private railway companies in Sweden
Bicycles are not allowed on Swedish trains, unless they're foldable and can be carried as hand luggage.
Reservations for trains in Sweden
Which trains in Sweden require reservations?
SJ High-speed train: Approximately €7 (SEK 62) in 2nd class and €17 (SEK 150) in 1st class

SJ Night train: Fees depend on destination and type of seat/bed booked.

Snälltåget night train: Fees depend on destination and type of seat/bed booked.
Reservations highly recommended for long journeys
SJ Regional and InterCity trains (R, IC): Approximately 3 euros (SEK 27 in local currency)

Inlandsbanan scenic train: Approximately 5.30 euros (SEK 50 in local currency)
How can I make reservations for trains in Sweden?
Domestic connections in Sweden
These are the average travel times between Sweden's most important cities. Reservations are optional for all of these train journeys.
Route
Travel time
Stockholm to Gothenburg
3 hours
Stockholm to Kiruna
(Night train via Sundsvall)
17hr 30min
Stockholm to Malmö
4hr 30min
Stockholm to Sundsvall
3hr 50min
International train connections to and from Sweden
| Route | Which train? | Travel time | Reservations |
| --- | --- | --- | --- |
| Stockholm to Copenhagen (Denmark) | SJ high-speed | 5hr 13min | Required |
| Stockholm (via Copenhagen, Denmark) to Hamburg (Germany) | SJ high-speed + InterCity | 14hr 10min | Required |
| Stockholm to Oslo (Norway) | SJ high-speed | 5hr | Required |
Sweden rail passes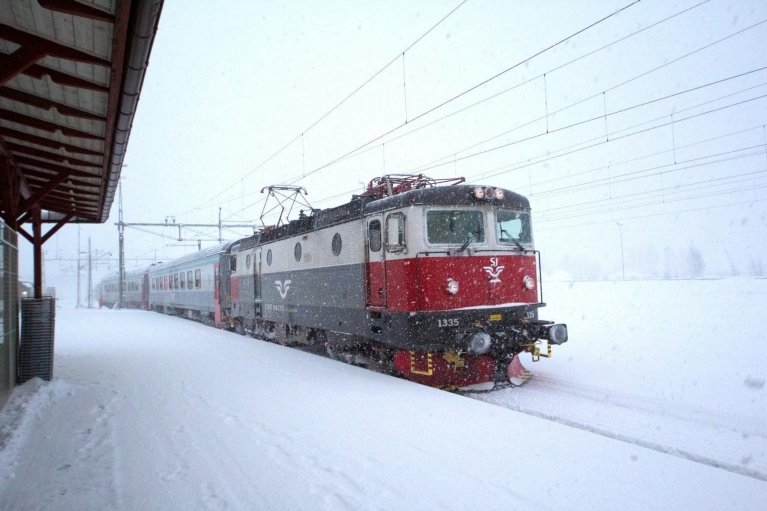 Interrail Pass options for Sweden
Interrail Sweden Pass
See the natural wonders of Sweden by rail.

Youth discounts, as well as family and senior discounts.

Additional benefits include up to 50% discount on ferry crossings to Denmark, Germany and Norway.

Prices from € 148
Interrail Global Pass
Travel by train as much as you like in up to 33 European countries including Sweden.

Discounts available for youth, seniors and families.

Prices from € 185
Train stations in Sweden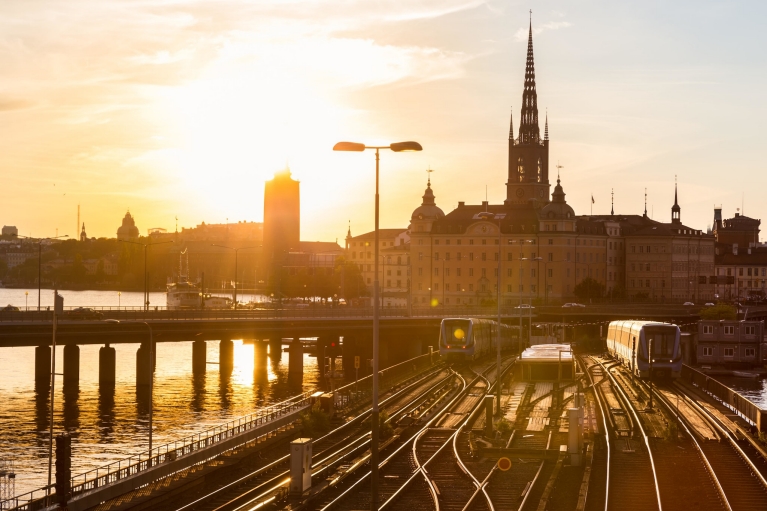 Sweden main train station
The railway hub of Sweden is in Stockholm:
Stockholm Centralstasion (main station).

Has Ticket desks and information service.

Located 1 km from the Old Town (Gamla Stan).

Bus and metro stops are next to the station.
Pass benefits for Sweden
Ferries
With your Interrail Pass, you get discounts up to 50% on several ferry crossings. This way, you can easily reach countries like Germany, Norway and Finland.
Spelling of cities in Sweden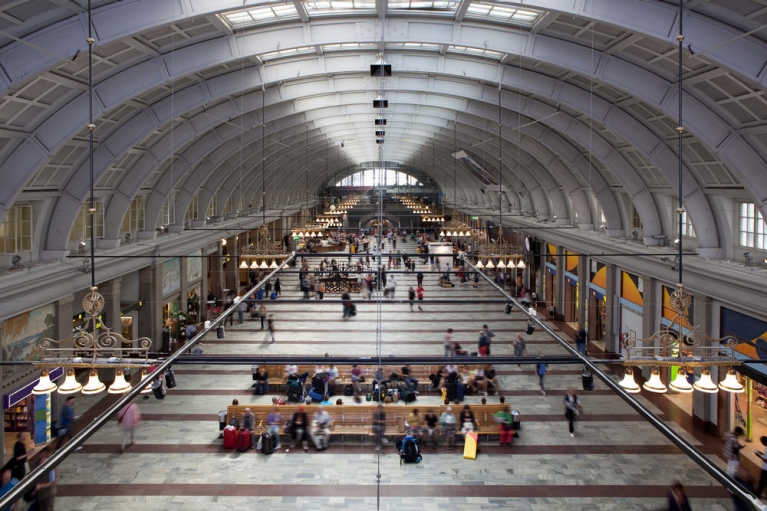 The local spelling of Swedish city names can be a little different. Keep this in mind when looking at timetables or finding your train at a Swedish station.