Days
Hours
Minutes
Seconds
TCDD (Turkish Republic State Railways) operates passenger trains all over the country. The train is the comfortable way to travel between cities like Istanbul, Ankara and Izmir.
Train types in Turkey
The train network in Turkey is run by TCDD (Turkish Republic State Railways). Their trains cover a large part of the country, and connect all the major cities. Turkish train times aren't always easy to find online. Your best bet is to check the Turkish version of the TCDD timetable.
Trains in Turkey
Regional trains (Bölgesel)
Various routes throughout Turkey
Main line train (Anahat)
Faster connections between major cities
High-speed train (Yüksek Hızlı)
Modern train that travels up to 250 km/h

Connects Istanbul, Konya and Ankara
Blue night train (Mavi Tren)
Travels from Ankara and Konya to Izmir
Bosphorus Express
International train to Bulgaria and Romania
Bikes are sometimes allowed on trains. Please check at the station if a special ticket is required.
Reservations for trains in Turkey
Which trains in Turkey require reservations?
Reservations on Turkish trains are not mandatory. However, we do recommend making reservations for the high-speed train between Istanbul and Ankara, and other long-distance trains. 
How can I make reservations for trains in Turkey?
At a ticket desk or self-service machine at Turkish train stations

You can make your reservations up to 15 days in advance
Domestic connections in Turkey
Here are the average travel times between the bigger cities in Turkey. Reservation are recommended for all of these train journeys.
Route
Travel time
Ankara to Izmir
(Night train)
15hr 20min
Istanbul to Ankara
4 hr 20min
Istanbul to Izmir*
9 hours
Istanbul to Konya
4hr 30min
*You'll need to take a ferry from Istanbul to Bandirma (across the Sea of Marmara). From there, the train will take you to Izmir in 6 hours.
International train connections to and from Turkey
Route
Which train?
Travel time
Reservations
Istanbul (via Dimitrovgrad, Serbia) to Bucharest (Romania)
Bosphorus Express
14hr 10min
Required
Istanbul (via Dimitrovgrad, Serbia) to Sofia (Bulgaria)

 

Bosphorus Express
5hr 13min
Required
Turkey rail passes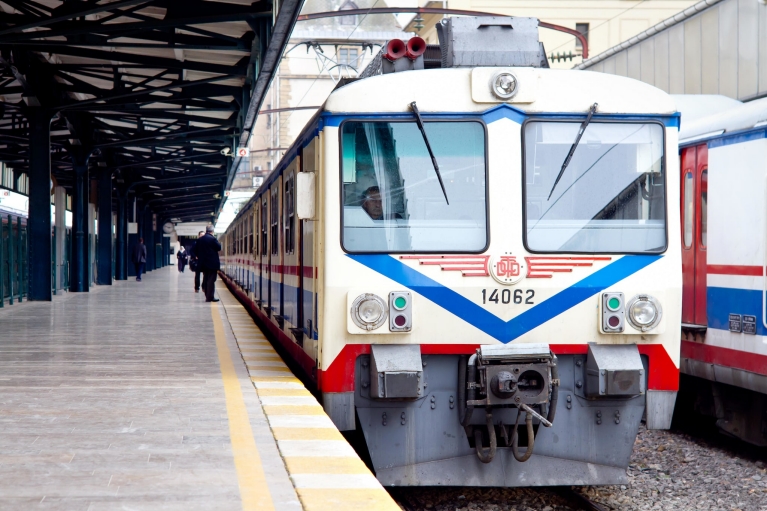 Interrail Pass options for Turkey
Interrail Turkey Pass
See all there is to see in Turkey by rail.

Youth discounts, as well as family and senior discounts.

Prices from € 51
Interrail Global Pass
Travel by train as much as you like in up to 33 European countries including Turkey.

Discounts available for youth, seniors and families.

Prices from € 185
Train stations in Turkey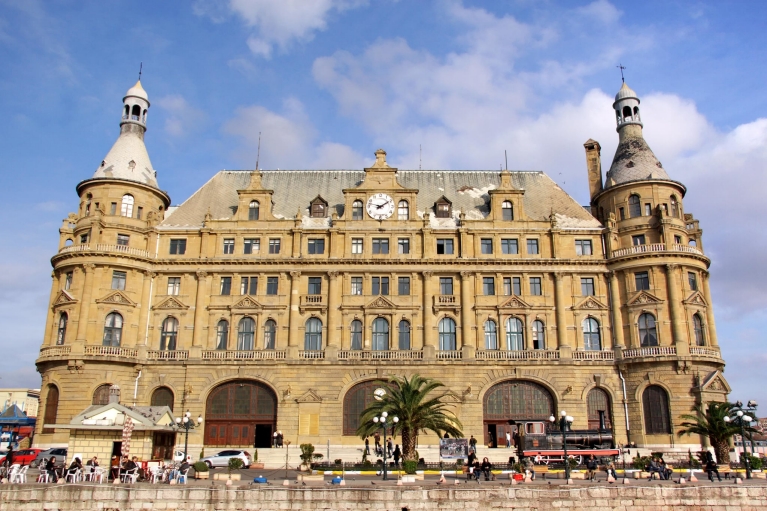 Turkey main train station
Istanbul is the main hub in Turkey for Interrail travellers.
Istanbul is the gateway to Europe, but ongoing constructions have decreased the city's accessibility.

High-speed trains to Ankara leave from Istanbul Pendik.

Historic Haydarpasa station is closed, but worth a visit!